Sport
Sport: Tottenham 1 – 1 Arsenal LIVE: Aubameyang Penalty Saved, Lucas Torreira RED CARD
Posted By: Victor on March 2, 2019
News Sport – Tottenham 1 – 1 Arsenal LIVE: Aubameyang penalty SAVED, Lucas Torreira RED CARD
Tottenham Hotspur 1-1 Arsenal: Premier League – live!
Harry Kane has a chat:
We came out in the second half fighting and deserved to get back into the game. Good tackles, good aggression, good pressing, and it looked like we were going to go on and get the second. We'd had two disappointing results. It was a perfect game to get back and show the fans we're ready to fight for the rest of the season. It's a point, obviously we wanted three, but it stops the losing streak. We had to come out fighting and show what we were made of, and thankfully we did.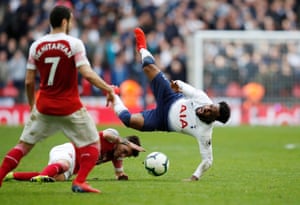 Torreira gets sent off! 94+5 mins: Torreira wins the ball just outside the area, but connects with Rose's shin in his follow-through. It looked to me like an excellent challenge without nay malice but with an unfortunate collision at the end of it, but there are studs and legs involved, and the referee thinks it's red-card-worthy!
828 total views, 4 views today
LISTEN TO THIS HOTTEST SONGS 🎸📻
LEAVE A COMMENT