News
In Calabar, Drama As Mechanic Crashes Client's Car While Taking It For A Ride
Posted By: Prince Marcus on April 9, 2019
Breaking News: Calabar, Drama As Mechanic Crashes Client's Car While Taking It For A Ride in Cross River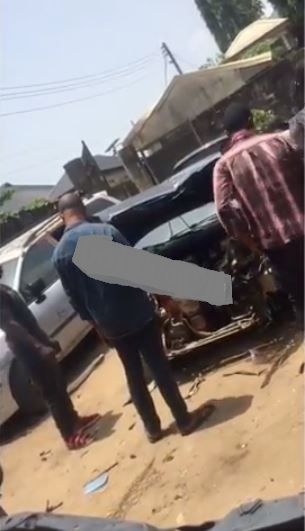 A mechanic apprentice has gotten himself into very serious trouble after crashing a client's car while test-driving the vehicle.
video has emerged online showing the moment a mechanic apprentice was being chided for bashing a client's car.
Local reports show that the apprentice had taken the client's car for a spin around town and in the process crashed it. Knowing that he was in big trouble, he fearfully returned the car to the workshop and all hell was let loose.
In the video, the apprentice is seen on his knees. Apparently, he had been ordered to kneel by his boss as part of his punishment for the deed.
The owner of the car is also seen in the video showing his displeasure. At first, he asks the apprentice if he has ever bought a bicycle in his life. He then moves to where the young man was kneeling down and smacks him across the face in anger before asking him to buy a new car as replacement for the crashed one.
Watch the video below:
540 total views, 4 views today
LISTEN TO THIS HOTTEST SONGS 🎸📻
LEAVE A COMMENT